Tips for taking your bathroom design from ordinary to extraordinary
Nothing makes starting your morning routine harder than walking into the bathroom and staring at the same old boring outdated fixtures day after day. The faded tile, chipped sink, and worn shower stall do little get you in the mood to start your day, and end up turning what should be a refreshing routine into a daily chore that you abhor. The reality is, while most of us are willing to dish out seemingly unlimited funds to upgrade our living rooms, kitchens, and automobiles, we often neglect the most important room in our house that we use most: the bathroom.
Water closet, loo, bathroom, head – no matter what you've come to call it, no room in your house is quite as important as your bathroom. It's the place you shower, the place you relax, the place you clean up, and the place you sit, soak, and solve life's great problems. It's also a value center of your house, and whether you're staying put or planning to sell, a remodel is the perfect way to increase comfort, ease of use, and add an awesome element of customization to your home. And though most bathroom remodel conversations are dominated by tile discussions, toilet choices, and shower shopping, the oft-overlooked sink can be the make-or-break aspect of any bathroom. And make no mistake: just because your sink serves a practical purpose in your bathroom doesn't mean it can't be a stunning work of showpiece art in your home. Today, we're going to show you how changing the way you think about your sink can bring the place you do your business to the next level (and we're not talking about your office!)
1. Don't Think Outside The Box!
Just because you use them to clean up, doesn't mean your bathroom has to ooze sterility. The right sink choices and design options can change any space into a showplace, and the experienced consultants at ReBath and 5 Day Kitchens of Phoenix, Arizona, will show you how. Let's start with something with a natural and organic feel.
A beautifully designed wooden box sink represents just how simple and gorgeous a subtle sink design can be, and what it can contribute to an overall bathroom design. Crafted to look as if it were taken directly from the forest, an interesting and innovative sink will have your guests talking. Impressing your guests, and adding a touch of beauty to your morning routine is easy with this kind of inspired choice in your bathroom, and a wooden sink like this, is only the tip of the iceberg when it comes to awesome, functional sinks.
2. Three May Be The Magic Number, But It Takes Two To Tango
Learning to Embrace the Double Sink
Double the luxury, double the fun – don't let your partner's desire for double sinks scare you away from tackling a bathroom remodel. The truth is: having his-and-her sinks doesn't mean you have to skimp on quality or functionality, in fact, with so many options on the market today, the choices are seemingly unlimited. Take these beautiful raised-basin vessel sinks as an example; their ultra-modern design's sleek and simple layout is a stunning choice for any bathroom. Not only does it bring an eye-catching feature to the room, it's also a practical choice, allowing couples to each have their own space to wash and refresh without sacrificing on style.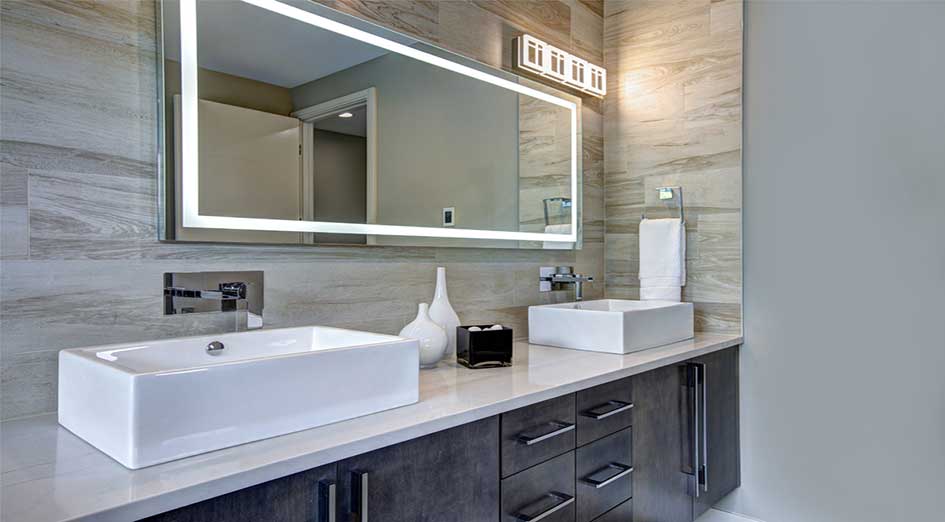 Bonus! Because the bowl of the sink remains above counter level on a vessel sink, the cabinet below features increased storage space – a great option for bathrooms that are lacking in square footage. And the gorgeous and simple faucet design ensures every visit to your sink will be an exercise in elegance. These lovely vessel sinks prove that double sinks don't have to sink your design plans.
3. Go Ahead, Put Baby In A Corner
Unless you're an astronaut, space isn't necessarily always your first concern. But when considering a bathroom remodel, square footage can quickly go from "billions and billions" to "one small step for man." Just because you find yourself fighting ol' Mr. tape measure at every turn, doesn't mean there aren't plenty of great options to take advantage of every inch of usable space. Corner sinks, a relic from the past that are making a fashionable, and practical, return, are now available in a variety of stunning designs, and will add loads of functionality to your space. Everything from the basic white porcelain to the raised-basin vessel variety we just examined are available in this space-saving format, and will help keep your bathroom roomy and comfortable for every visit.
You can see a variety of sinks and other bathroom designs by visiting our digital gallery!
4. Refresh Yourself While You Express Yourself
Two things are needed for a functional sink: a faucet (or water source) and a drain. Other than that, the only limitation is what a designer's mind can conceive. If you're all about personality (and we know you are), then your bathroom should reflect that, and a truly unique sink is the perfect way to bring some of you into your bathroom and beat the boring status quo. And because it's such a versatile design component, a sink can serve as its own self-contained artistic statement. You can select a sink design that plays into a larger overall motif, and acts as the centerpiece of your vision:
Large or small, traditional or exotic – any bathroom design can be improved with the addition of an eye-catching and functional sink. We hope these examples have shown you what's possible when working on your bathroom remodel, and have you excited about exploring the possibilities for your home. When you're ready to bring your bathroom into the 21st century, let the experts at ReBath help you select what works best for your space, and make your dream washroom a reality. Until then – happy hand washing!