Arizona's Tub-to-Shower Conversion Experts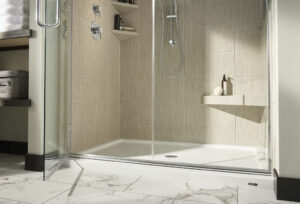 Add More Value to Your Home with a Modern Shower Upgrade
Are you ready to transform your bathroom into a space that surpasses your wildest dreams? Re-Bath and Kitchens, the leading experts in tub-to-shower conversion in the Phoenix, AZ area, is here to bring your ideas to life. With our unrivaled craftsmanship, premium-quality materials, and dedication to customer satisfaction, we are prepared to take your luxurious bathroom transformation to the next level.
Your bathroom should be a reflection of your personal style. That's why we offer a versatile range of customizable options to bring your unique vision to life. From sleek and modern designs to timeless, elegant aesthetic appeal, our team of design and remodeling experts will collaborate with you to create a tub-to-shower conversion that perfectly suits your lifestyle. Explore our variety of products and bathroom remodeling services and get your bathroom upgrade project started today!
A Seamless Tub-to-Shower Conversion Process
Our goal at Re-Bath and Kitchens is to make your bathroom remodeling project a stress-free and straightforward experience. Our dedicated team of contractors takes pride in making your vision a reality and will guide you through each step of the tub-to-shower conversion process. Starting with a comprehensive assessment of your existing space, we'll discuss your desired layout, all the luxurious features we have to offer, and any specific requirements you may have for your new bath unit.
Your tub-to-shower conversion will be in the most qualified and capable hands, from concept to stunning end result. With our expertise and keen attention to detail, we consider every aspect of your bathroom renovation, from the design and materials used to any plumbing reconfigurations needed prior to enhancing your shower space.
Explore Our Variety of Bath & Shower Remodeling Products
We offer an extensive selection of shower and tub products, allowing you to customize and create a beautiful new shower that perfectly fits your bathroom space. Explore our variety of options available to enhance your tub-to-shower conversion:
Shower Bases – Our custom-fitted shower bases are designed with advanced slip-resistant technology, ensuring safety and peace of mind. Choose from a range of shapes and sizes to create a shower base that fits flawlessly into any bathroom layout.
Bathtubs & Liners – Discover a wide assortment of bathtubs featuring sleek, modern designs and accessibility options for those with limited mobility.
Shower Fixtures – Complete your shower-to-tub conversion project with high-quality fixtures, including state-of-the-art showerheads, faucets, handles, and drain covers. Choose from various styles and finishes that enhance your bathroom aesthetic and elevate your bathing experience.
Shower Benches – Add comfort, convenience, and extra functionality to your bathtub by adding a stylish shower bench. Our selection includes benches in various styles perfect for recreating a spa-like atmosphere for your bathtub.
Grab Bars – Ensure safety and accessibility in your new bath unit with a sturdy and stylish grab bar thoughtfully designed for that final finishing touch of stability, support, and personalized visual appeal.
Durabath™ – Unmatched Quality, Enduring Beauty
Re-Bath and Kitchens completes bathroom renovations and remodeling projects with nothing less than exceptional quality. We proudly use Durabath™, our exclusive line of shower and tub products, to add even more durability, functionality, and stylish customization options to your bathroom renovation project. Durabath™ is non-porous, completely waterproof, and mold and mildew resistant, offering an impressively versatile array of styles and patterns that allow you to personalize your new shower enclosure or bathtub to shower unit! Our selection of Durabath™ Wall Surrounds provides a long-lasting solution and is backed by a lifetime warranty. Explore our line of Durabath™ products for an ample boost in unique aesthetic appeal.
More Than Just a Shower Upgrade
A tub-to-shower conversion offers numerous benefits for homeowners seeking a change in their bathroom space. Whether you desire a relaxing soak in an upscale bathtub or need a practical solution for a growing family, this conversion process is the perfect answer. At Re-Bath and Kitchens, we have helped countless homeowners convert their shower space into a gorgeous, custom bathtub designed to be enjoyed for a lifetime!
Your Dream Bathroom Awaits
Take the first step towards your dream bathroom today by partnering with Re-Bath and Kitchens! As a reputable renovation contractor and trusted remodeler serving homeowners in Phoenix, Scottsdale, Peoria, and the surrounding local communities, we bring unmatched skill and experience to every tub-to-shower conversion project. With our unwavering commitment to quality craftsmanship and personalized service, you'll have all the confidence in the premium results we deliver. Contact our team today and get started on transforming your space into the bathroom oasis you've always envisioned.