Bathroom Remodeling Contractors Near Phoenix, AZ
Re-Bath & Kitchens Bathroom Remodeling Services
At Re-Bath and Kitchens, we offer extensive bathroom remodeling services for Peoria, Prescott Valley, Scottsdale, and Phoenix, AZ, residents. Our seasoned bathroom remodeling contractors are with you every step of the way, from the first design consultation to installation, as well as lead testing, product ordering, scheduling, permits, and demolition. We are licensed, bonded, insured, and complete more than a thousand remodeling projects each year with work that is backed by one of the strongest warranties in the industry.
Upgrade Your Space with a Bathroom Remodel
Is your space ready for a bathroom remodel? Tubs and showers are a huge part of your daily routine. Over time, it is not uncommon for these products to begin showing wear and tear. No matter how you're planning to update your space, Re-bath and Kitchens handles bathroom remodels from the initial design to installation.
Our bathroom remodeling process begins with a free in-home design consultation with one of our seasoned bathroom designers. During this consultation, our Re-Bath & Kitchens representative will sit down and discuss all of your bathroom remodel needs. From the square footage of the space to the counters, sinks, and shower design, we'll consider and incorporate every aspect of your preferences into your bathroom remodel. Once the details of your bathroom remodel are settled, our designers will come up with a plan to restore the beauty and functionality of your space in a way that meets your expectations. To make the process simple, our bathroom remodeling company helps you choose fixtures and features by organizing them into style categories, such as:
Traditional — A refined, yet comfortable style that features classic, formal charm, influenced by the past. Every element feels familiar, properly-placed, and welcoming. This style features an abundance of ornamentation, highlighting architectural detail rather than hiding it. Cabinetry can be flush or inset with raised panel doors and is always paired with elegant knobs or handles. Decorative inserts and classic lighting tie the space together, giving the bathroom a warm, lived-in feel.
Transitional — A harmonious style that balances classic elegance and contemporary chic. With a more relaxed feel than its traditional roots, transitional style embodies comfort and warmth. It also gives you the freedom to freshen up the look with trendy accessories. This style is crisp and straightforward with warm, neutral palettes and natural surfaces, such as wood and stone. Hardware is simple, yet elements like lighting can become statement pieces to give the room a focal point.
Contemporary — An edgy yet organic style based on geometry and function. Sleek cabinetry with simple hardware (or no handles at all), minimal accessories, cutting-edge fixtures, and high-gloss finishes set the stage. A mixture of patterns and texture within a neutral or monochromatic palette bring interest, while eye-catching and edgy lighting complete the space.
If one (or all!) of these categories sound right for your bathroom remodel, our professionals at Re-Bath & Kitchens would be happy to customize these styles to fit your personal aesthetic. If you're still having trouble making a decision, we recommend you take a look at our online bathroom gallery for more inspiration!
Products and Solutions for Your Bathroom Remodel
Once you decide the general direction your bathroom remodel will take, you'll need to pick out accessories that compliment your space. The products and accessories we frequently work with during our bathroom remodels include:
Accessories: grab bars, window trim kits, towel bars, toilet paper rings, shower towers, and soap dishes
DuraBath SSP™ (Solid Surface Polymer) bathtubs and showers
There's a lot to consider once you're ready for a bathroom remodel. We'll not only help you find the right products for your new bathroom, but we'll also help you find the monetary resources to transform your bathroom into your dream space.
Trust
A+ rating with the Better Business Bureau
Exclusive Home Depot Bathroom Remodeler
40 years of experience in remodeling
Exclusive Lowes Bathroom Remodeler
Guarantees
"We promise to do the work we contract for with a high degree of professionalism and with no hidden charges." Owner, Kurt Kittleson
LIFETIME WARRANTY
Financing Available
We can help you find the monetary resources to transform your kitchen or bathroom.
Professional Service
Powered by 80+ employees who are all background checked, certified and trained by Re-Bath and Kitchens
We handle everything from design to installation
Visit Our Bathroom Remodel Showrooms
Find everything you need for your bathroom remodels in our showroom, including services like design assistance and professional installation. We'd be happy to show you the following in-stock features and fixtures:
Acrylic and Natural Stone Wall
Walk-in Tubs
Tub Liners
Bertch Cabinets and Vanities
Arizona Shower Doors
Moen Faucets
Avaire Tile
And More!
Rely on our professionals and products at Re-Bath & Kitchens for a bathroom remodel in Peoria, Prescott Valley, Scottsdale, and Phoenix, AZ, that meets all of your needs while retaining a relaxing and functional atmosphere! Reach out to us today for a free in-home design and estimate!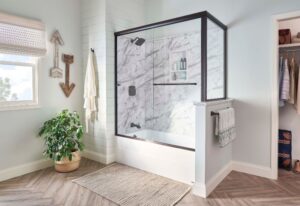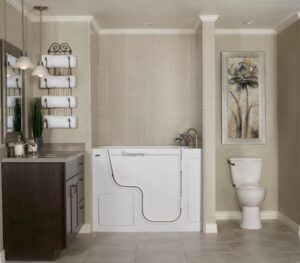 Frequently Asked Questions
Why should I remodel my bathroom?
If you're tired of your bathroom's outdated style or simply craving a more luxurious space, a remodeling project offers a multitude of advantages. Remodeling not only enhances the aesthetics of your home but can also optimize functionality to make better use of the space and add more energy efficiency to your property. Bathrooms are meant to be a sanctuary for relaxation, and a well-designed remodel can increase your overall satisfaction with your living space.
What will the remodeling process involve?
Our
bathroom remodeling process
at Re-Bath and Kitchens is custom-tailored to satisfy your unique needs and individual preferences. It begins with an initial consultation where our experienced designers will assess your space, discuss your vision, and provide expert recommendations. From there, we'll develop a detailed design plan, handle all the necessary remodeling permits, procure the materials, and execute the construction phase with the utmost precision and care. Our ultimate goal is to ensure a seamless and stress-free experience from start to stunning end result!
How long does the remodeling process take?
The duration of a bathroom remodeling project will depend on several factors, especially the scope and complexity of the work and the availability of required materials. Bathroom remodels can involve alterations to mechanical, electrical, and plumbing systems, so your remodeling project will likely require permits to comply with municipal building codes. Typically, the bathroom remodeling process can take anywhere from a few days to a couple of weeks.. During our initial consultation, we'll walk you through the process and provide you with a timeline based on your specific project's requirements.
What's the difference between a remodel and a renovation?
While the terms "remodel" and "renovation" are often used interchangeably, they technically have distinctly different meanings. Where a renovation focuses on restoring or updating existing elements, a remodel involves altering the structure, layout, or function of your bathroom. Whether you're looking to transform your bathroom completely or just give it a modern facelift, our team at Re-Bath and Kitchens is equipped to handle both renovations and extensive remodeling projects to achieve your desired outcome.
Are there specific features I should prioritize for my remodeling investment?
When it comes to bathroom remodeling, there are certainly some features that tend to have a greater impact. While changing faucets and showerheads, cabinets and countertops, or upgrading fixtures can enhance both the aesthetic appeal and functionality of your bathroom – one of the best projects begins with a bathtub to shower conversion to increase aesthetics and practicality. New shower walls, and possibly a larger shower area with plenty of room and enhanced safety features, will make a design statement of your dreams. Additionally, investing in energy-efficient solutions like low-flow toilets and LED lighting systems can help reduce utility costs and contribute to a more sustainable environment.
Will a bathroom remodel increase my property's value?
Absolutely! One of the complementary perks to enhancing your bathroom space is the significant increase in your property's overall value. Not only will you appreciate your updated home aesthetic but if you're planning to put your home up for sale, potential buyers will often be drawn to homes with more modern, attractive bathrooms. Investing in timeless, high-quality design elements means you'll improve your daily living while making a smart financial decision. Note: bathroom remodels performed by licensed contractors who file any necessary permits have a major advantage for homeowners completing a seller property disclosure statement where buyers will expect to see any information on projects undertaken.
Do I need to prepare my home for a bathroom remodeling project?
Yes, there will be some extent of preparation required before beginning your bathroom remodeling project. Generally, cleaning out the bathroom and any adjacent areas will help facilitate a smooth construction process and allow the contractors to workefficiently. We recommend removing personal items like toiletries and decorations to protect them from potential damage. Our team will help guide you through all the necessary steps to prepare your home and ensure a streamlined remodeling experience.
Do I need my own design concepts before contacting a remodeling company?
While having design concepts can be helpful, it's certainly not required of you. Our expert Design Consultants  will work closely with you to understand your style preferences and functional needs. We'll provide you with a range of design options, materials, and fixtures to choose from, ensuring your bathroom remodel reflects your unique tastes down to every detail!
How do I start my bathroom remodeling project?
Starting your bathroom remodeling project is as easy as contacting our team at
Re-Bath and Kitchens!
Simply reach out to our team and schedule a free consultation at your convenience, and we'll be delighted to discuss your ideas, budget, and timeline and develop a customized plan of action to bring your dream bathroom to life.