Characteristics of a Good Bathroom: Bathroom Remodeling Ideas
Re-Bath & Kitchens: Phoenix, AZ Bathroom Remodel Specialists
If you're considering a bathroom remodel in the Phoenix, AZ, area and are wondering what the characteristics of a good bathroom design should include, Re-Bath & Kitchens would be happy to help. Our remodeling company possesses over 40 years of home remodeling expertise to offer you quality advice, products, and installation services. Let our experts steer you in the right direction for the best bathroom remodeling trends to ensure your satisfaction with your new bathroom for many years to come. We offer free in-home design consultations and have three showrooms in Peoria, Scottsdale, and Prescott Valley. Below, we've gathered the characteristics of a good bathroom to help you get started as you brainstorm what you want from your next remodeling project. Whether you desire a replacement shower or a walk-in tub conversion for your Arizona bathroom, let us know how we can help!
The Layout Lays The Foundation For Successful Bathroom Design
The strongest bathroom designs look attractive without sacrificing functionality. Since your day usually begins and ends in the bathroom, it's vital to give your bathroom design some serious thought. A practical but pleasing layout is the foundation of a beautiful bathroom. First, you'll want to think about your bathroom's usage. Are we renovating your master bathroom or a guest half-bath? How many people will use this bathroom daily? Is a walk-in tub necessary to address senior mobility concerns?
Are you looking to maximize your floor space to make the room appear larger? What sort of ambiance do you desire in your bathroom? We can help you work with your room's existing features to create the best layout that won't interrupt your family's flow. We recommend utilizing our visualizer tools and browsing our gallery to get inspired for your next bathroom remodeling project.
Think About The Desirable Elements Of Your Dream Bathroom
Many people desire a relaxing place to collect their thoughts and enjoy "me" time. Is there a better room in the house for this than the bathroom? If you've always wanted your bathroom to feel more spa-like, we'd be happy to oblige with water or air jets for hydrotherapy, built-in music speakers, or relaxing rainfall showerheads. Do you desire a traditional, modern, or transitional style in your bathroom? Re-Bath & Kitchens carries top-of-the-line cabinetry, faucets, bathroom and shower wall surrounds, and more in our Arizona showrooms to help you upgrade whatever elements complete your desired design.
A Walk-In Tub Conversion Can Increase Your Home's Resale Value
If you're worried about aging in place gracefully, you're not alone. Our certified remodeling contractors can install a walk-in tub, grab bars, hand-held or ADA-compliant showerheads, slip-resistant flooring, shower benches, dual-massage systems, and other accessibility features to give your bathroom a dignified senior makeover. Even if you aren't ready to retire yet, it never hurts to plan for the future. Mobility and accessibility issues affect people of all ages, not just seniors. Whether you plan to remain where you are, or you might sell your home within the next decade, a walk-in tub conversion and other ADA-compliant features can help increase your home's resale value. We'd be happy to give your bathroom a remodel to meet your family's evolving safety needs!
Why You Should Consider Adding A Bathroom Vanity Cabinet
Vessel sinks and vanity cabinets are two popular modern elements to incorporate into your bathroom design. Bathroom vanities don't occupy much space, but they help tie a room together. Double vanities are an excellent addition if you have multiple people who need to get ready in the bathroom in the morning. Vanity cabinets also provide more storage space for your bathroom linens, makeup, hair and shaving tools, cleaning products, and more. Pedestal vanities take less space than cabinet-base styles, while wall-hung vanities can also help you conserve limited space. If you have children, you may need a vanity with an in-set basin for easier usage. You'll want your new bathroom vanity to complement the other elements of your bathroom. We suggest taking photos of your bathroom before browsing our showrooms to ensure the best match. We'd be happy to help you compare and contrast various models.
Do You Need A Replacement Bathtub Or Shower In Your Home?
How long has it been since you updated your bathtub or shower? If it's time for a tub replacement, Re-Bath & Kitchens is the perfect team for the job. From walk-in tubs to free-standing tubs and whirlpool tubs with massaging jets, we can accommodate your preferences. When it comes to tubs, you don't want them to overpower the room. Their placement, size, and design matter when making your selections. When it comes to replacement showers, the type of showerhead you choose will dictate the water flow and pressure. Do you have room for a separate shower cubicle, or should you place your shower directly over the bath to save space? Frameless showers can help you make a tiny bathroom look and feel more spacious, which may be beneficial should you ever wish to sell your home.
What Type Of Flooring Is Best For Your Next Bathroom Remodel?
Flooring is one of the easiest ways to breathe new life into your bathroom design, and one of the most important things for a bathroom remodel. We'd be happy to suggest the most durable and stylish bathroom flooring options to suit your budget and preferences. Vinyl flooring is water-resistant and less prone to show wear and tear from heavy foot traffic, while luxury vinyl flooring is scratch-resistant and warm underfoot for those cold winter mornings. Tile flooring is attractive and long-lasting, making it one of the most cost-effective options.
Upgrading Your Bathroom Countertops With Durable Materials
From granite and quartz to marble,
and solid surface countertops, Re-Bath & Kitchens carries the most popular bathroom countertop materials for your consideration. No matter which you choose, you can rest assured you're adding home resale value. We'd be happy to make recommendations for the best scratch-resistant surfaces, as well as those that are stain-resistant and easier for homeowners to clean and maintain. Our bathroom countertop materials come in all styles, colors, patterns, and sizes to help you create a one-of-a-kind look and feel for your bathroom.
Never Underestimate The Importance Of Lighting & Ventilation
Adequate bathroom lighting is essential to help you get ready in the morning and avoid slip-and-falls at night. Dimmers and accent lighting can help you create a more tranquil bathroom ambiance. You may also wish to consider LED lighting for improved energy efficiency. The key to bathroom lighting is ensuring that it's moisture-proof since steam often rises outside your shower. Investing in better ventilation for your bathroom is also crucial. Ventilation keeps your bathroom more hygienic by reducing the steam and humidity levels to prevent mold and bacteria growth. Talk to our Northern Arizona bathroom remodeling experts for additional lighting and ventilation tips.
Bathroom Designs Backed By The Industry's Best Warranties
The best bathroom designs also come backed by the industry's strongest warranties. Re-Bath & Kitchens is licensed, bonded, and insured to complete bathroom remodels from start to finish. We'd be happy to help you plan every square foot of your bathroom space for maximum enjoyment and functionality. Whether you prefer a traditional bathroom with a lived-in feel or a contemporary design with high-gloss finishes, cutting-edge fixtures, and eye-catching lighting, we're equipped for the job. We're proud to carry bathroom remodeling products to suit all budgets and preferences. As a testament to the quality of our workmanship, our bathroom remodeling company is the exclusive partner of Lowes and Home Depot in Northern Arizona.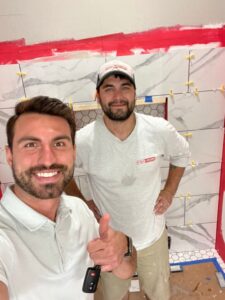 Let Our Experts Guide You To A Good Bathroom Design Today
Did you find our guide to a good bathroom design helpful? Don't waste your hard-earned money on fleeting fads when you can trust our tried-and-true design recommendations. If you're ready to get started on your next bathroom remodeling project in the Phoenix area, we'd love to help. Contact us today with any additional bathroom remodeling questions or concerns. No matter your budget, we can show you ways to improve your bathroom's aesthetics without breaking the bank. Request a free in-home bathroom design consultation from our friendly, knowledgeable professionals today. Be sure to ask about our financing options and special promotions designed to save you money!