Arizona's Trusted Bathroom Remodeling Specialists
Improve Accessibility with Walk-In Tub Installation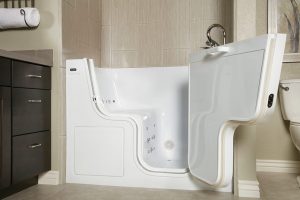 A safe and secure home is essential for everyone, but when it comes to seniors, the bathroom becomes a critical area to focus on. Shockingly, statistics reveal that a significant number of severe injuries among seniors occur within the confines of their own bathrooms. At Re-Bath & Kitchens, we recognize the importance of bathroom safety for seniors and are dedicated to helping them create ADA-compliant bathrooms that prioritize both safety and convenience. By implementing ADA guidelines, we ensure that your bathroom becomes a sanctuary of comfort and peace of mind.
Seamless Transition: Transforming Your Bath or Shower Area
At Re-Bath & Kitchens, we make the process of transforming your traditional bath or shower area into a Walk-In Tub a seamless and hassle-free experience. Our team of experts is well-versed in handling this transition with utmost care and precision. By replacing your existing tub or shower with a Walk-In Tub, featuring textured flooring, sturdy handrails, and a convenient curb less entrance, we significantly reduce the risk of slips and falls, granting you the freedom to bathe independently without any worries.
H3: Elevating Bathroom Safety with Smart Accessories
Beyond the installation of Walk-In Tubs, we go the extra mile to enhance your  safety with modern designs and finishes you can see in our line of safety and stability accessories. Our commitment to bathroom safety includes the installation of reliable and attractive accessories such as grab bars, shower benches, and convenient, easily adjustable hand-held showerheads. These thoughtful additions work in tandem to provide you with a safer and more secure bathing experience, tailored to your unique needs. Our goal is to help you maintain your independence and quality of life, while also improving your safety. We take pride in providing our customers with the highest level of service, so you can rest easy knowing that we've got you covered.
User-Friendly Design: A Bathroom for All Abilities
At Re-Bath & Kitchens, we firmly believe that your bathroom is design and styled to suit your desired environment, regardless of mobility challenges. Creating a user-friendly and holistic outcome is at the core of our service. We understand the challenges that limited mobility can pose and are adept at making your bathroom more accessible. Our team skillfully swaps knobs with levers and widens doorways to accommodate walkers or wheelchairs, ensuring your bathroom is easily accessible and hassle-free to use. With Re-Bath & Kitchens, you can regain your independence and dignity, as we strive to make your bathroom an inclusive space for all abilities. By choosing Re-Bath & Kitchens, you are opting for comprehensive solutions that address your safety concerns while elevating your bathing experience. Embrace the freedom of a safe and luxurious bathroom with our Walk-In Tubs and ADA-compliant services.
Discover the Benefits of Walk-In Tubs
Walk-In Tubs have been gaining popularity among seniors for a myriad of reasons. They are not only a great alternative to traditional bathtubs, but they also offer a number of benefits that can help you maintain your independence and improve your quality of life. They are especially helpful for individuals with mobility issues or those recovering from surgery or an injury. Let's explore the incredible benefits that these tubs can bring into your life:
Safety First: Embrace Confidence in Your Bathing Experience
When it comes to bathing, safety should be a top priority, especially for seniors and individuals with limited mobility. Our Walk-In Tubs are thoughtfully designed with an array of safety features, including handrails and built-in seating, providing you with the confidence to enjoy your bath without worries. The curbless entry ensures a seamless transition, further reducing the risk of tripping, and granting you the freedom to enter and exit the tub with ease. Our Walk-In Tubs are also designed with steep curbs and drop-ins in mind, making it easy to transition between the bathroom and your walk-in tub. Simply roll up onto the curbless entry of your bath and into the water – no need to lift yourself over any obstacles!
Soothing Relief: Experience the Healing Power of Hydrotherapy
Step into a world of relaxation and healing with our Walk-In Tubs, offering you the therapeutic benefits of hydrotherapy right in the comfort of your home. The warm water immersion can work wonders for your health, alleviating aches, pains, and discomfort caused by conditions like arthritis, fibromyalgia, injuries, and other chronic ailments. You can also use a walk-in tub to ease away stress and tension, allowing you to unwind after a long day. The warm water will help soothe your muscles, keeping them relaxed as it supports your weight.
Convenience and Comfort: Elevate Your Hygiene Routine
Maintaining essential hygiene is a fundamental aspect of well-being. Our Walk-In Tubs eliminate the challenges posed by traditional showers or tubs, making it easy and comfortable for you to uphold your personal hygiene. Say goodbye to the struggles of accessing a standard tub or shower and embrace the convenience of a Walk-In Tub. Our aim is to empower you with a bathing solution that enhances your quality of life and ensures your well-being is never compromised. Our Walk-In Tubs are designed for convenience, comfort and safety. You can easily step into the tub without having to worry about slipping or falling. Our tubs also feature handrails and grab bars for extra support when needed, ensuring you always feel safe during bathing.
Investing in Your Future: The Long-Term Benefits of a Walk-In Tub
Beyond the immediate benefits, consider a Walk-In Tub as a valuable investment in your safety, health, and independence. It not only enriches your daily life but also adds long-term value to your home. By reducing the risk of slip-and-fall accidents, a Walk-In Tub translates to fewer medical expenses and, most importantly, enhanced peace of mind for you and your loved ones. Embrace the reassurance of a safer and more luxurious bathroom experience with a Walk-In Tub, an investment that pays dividends in comfort and security. The benefits of a Walk-In Tub are numerous, but they don't stop there. The long-term value of this investment is also worth considering. Embrace the reassurance of a safer and more luxurious bathroom experience with a Walk-In Tub, an investment that pays dividends in comfort and security.
Request Your Walk-In Tub Installation Quote Today
At Re-Bath & Kitchens, we understand the importance of making bathroom safety and luxury accessible to all. Our commitment to providing top-notch solutions that fit your unique needs and budget is unwavering. You don't have to compromise on quality to create a safer and more indulgent bathroom experience. Take that essential first step towards transforming your bathroom into a safe-haven by requesting a Walk-In Tub installation quote today. Our friendly and knowledgeable experts are just a call away, eager to guide you through the process with care and expertise. Embrace the freedom of aging in place with Re-Bath & Kitchens, where your safety and satisfaction are our top priorities. Don't wait to experience the joy of a secure and luxurious bathroom. Contact us today and discover how Re-Bath & Kitchens can elevate your bathing experience and enhance your quality of life.